ySign ICO (YSN)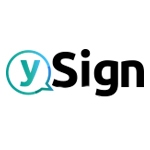 Below is the ICO (Initial Coin Offering) information for ySign (YSN).
Summary:
ySign is a new blockchain-based global platform for free communication and discrete conversations with 100% privacy, created as an opportunity to stay anonymous and secure.
About:
Communicating with someone freely and without a stored copy of conversation will be possible with our new application for secure, decentralized communication. When we say freedom, we think that the complete app is decentralized, which means there is no processing and storage of messages or calls. ySign is a new messaging application based on blockchain technology. With our app, we can send messages and make phone calls to others free, secure and anonymous.
Our users are registered on our decentralized chat only with username and password. When one user is registered, he can choose if he wants his username or his ID Address to be shown in communication. Every user has one unique ID Address and the last four numbers of it are displayed. Our app stores all data and messages only on that ID Address. The user can delete them anytime he wants.
One of the options on our chat is that users can also create groups with an unlimited number of members. This option is convenient for team gatherings, business chats or simply group communication. We're creating the platform that connects a group of people to make it easy and safe for groups and teams who need to get their work done. Besides a chat, a call option is also provided. The option of calls is our way to make communication between two users fast and simple.
Prices:
1. Pre-Sale Period (PreICO)

1st week 0.00018 ETH/0.43 XEM
2nd week 0.00036 ETH/0.85XEM
3rd week 0.00054 ETH/1.28 XEM
4th week 0.00072 ETH/1.71 XEM
2. Sale Period (ICO)

0.00084 ETH/2.00 XEM